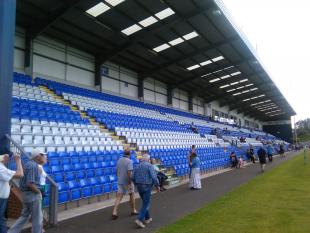 By Nick Meredith
January 20th  2019
Well, in the end it was a win, and, come the end of the season that is all that will have mattered.
It was enough to keep Coventry at the head of the lower half of the Championship table, and it was a victory against a team that beat us comfortably in the first weeks of the season. In a first season back in the Championship, that is a good result, but it is clearly one that has left many supporters dissatisfied.
Cornish Pirate were not a great team yesterday. Their 'gamesmanship' overstepped the mark repeatedly and by half time had put them eight points to the better.
The irony that Scott Tolmie's two tries came from period when they were a player down in the second half – and were very lucky not to have a player red-carded for arguing and refusing to leave the field when yellow carded – at least reflected that although the officials appeared weak, in the end they took action against repeated serious infringements.
The match was played on a soft slippery pitch; probably as much caused by the overnight rain which continued as drizzle during the match as by the rugby league match on Friday evening. The ball was slippery, and the breeze uneven.
Both teams adopted similar game plans – and neither were entertaining to watch. For most of the first half, Pirates were on top. In those conditions it was not surprising that the half was dominated by penalties, with both sides' kickers performing well.
The end of the half saw a Pirates penalty, with an immediate and effective counter-attack by Coventry failing a metre short when it appeared that a Coventry maul which had split into two pods was flagged as being in touch, when the ball carrier was still in play and in the other pod.
The second half was little less enjoyable to watch, although the pressure from Coventry gradually increased, and eventually began to tell, with Pirates losing discipline, and being penalised for it. Two yellow cards resulted in periods where Coventry could increase the pressure, and both times ended up with replacement Scott Tolmie scoring from close-in.
As Tony Fenner prepared to make his final kick, a shout of "Go Go Go!" from the Cornish team saw an early charge to attempt to charge down his kick, but from a few metres in from touch he slotted it neatly, the roar of the stand confirming it was over long before the touch judges agreed.
Scorers:
Tries: Tolmie (2)
Conversion: Fenner
Penalties: Maisey (2)
Sponsor's Man of the Match: Will Maisey
Highlights (Official Coventry Rugby): Here
Report (Official Coventry Rugby): Here
Attendance: 2,273
Words and Pictures: Nick Meredith
Pirates Sunk – Courtesy & kind permission of http://www.rugbynetwork.net/boards/list/s425.htm